Baptist Pharmacy Residency PGY2 Residents
Pooja Patel
PGY2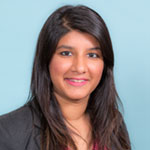 "I was born and raised in Lexington, KY, so I love my Kentucky Wildcats. I graduated from high school in Sioux Falls, SD, and obtained my Doctor of Pharmacy degree from South Dakota State University College of Pharmacy. I completed my PGY1 Pharmacy Residency at Mayo Clinic Health System in La Crosse, WI. I am very excited for all the opportunities I will have as a PGY2 oncology resident at Baptist Cancer Center.
Undergraduate degree
Bachelor of Pharmaceutical Sciences degree, South Dakota State University, 2015
Medical degree
Doctor of Pharmacy degree, South Dakota State University, 2017
Residency
PGY-1 Pharmacy Residency, Mayo Clinic Health System, La Crosse, WI, 2017-2018
Where did you grow up?
Lexington, KY and Sioux Falls, SD
Why did you choose Baptist?
I chose Baptist due to the warm and welcoming environment the Baptist Cancer Center pharmacy team created when I came to interview for the residency. I recognized all the opportunities that Baptist would provide for me to become a successful oncology pharmacist.
What's your favorite thing about Memphis?
I just moved to Memphis less than a month ago, so my experience is pretty limited. I have been able to make it to the zoo and the Civil Rights Museum. I am very excited to try all the new restaurants and explore different areas of Memphis.
Personal interests outside of the residency program
I have been dancing since I was 3 years old and have been trained in classical Indian dance forms. I love to cook, travel, spend time with my family and watch sports. Go UK Wildcats!
Why did you choose your career? Was there someone or something in your life that helped you choose your path?
There have been a lot of different factors that have led me to choose oncology pharmacy as my career. Overall, I want to impact patients in a positive and meaningful manner, become a valuable member of the health care team, and promote my profession through leadership opportunities.
Why would you recommend Baptist to a prospective applicant?
The Baptist culture is welcoming, inclusive and centered around patient care. I would recommend Baptist for any prospective applicants if they wish to work in a team-based hospital or clinic and seek opportunities to impact patients through whatever work they choose to do.